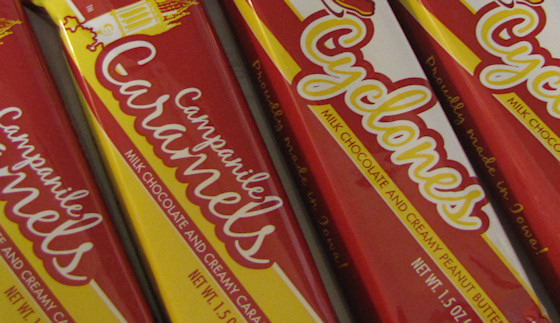 When I first saw All Star Chocolate's university-branded chocolate bars at our local grocery store, I wrote them off as a gimmick.  After all, it was hard to imagine the quality of the candy inside living up to the cutesy packaging design.  Fortunately for chocolate fans, my initial assessment was wrong.
They're produced by Bochner Chocolates in Iowa City, made with superior ingredients, and competitively priced at under a dollar.  Officially licensed and branded for five Midwestern schools, there are two varieties available for purchase – milk chocolate with peanut butter and milk chocolate with caramel.  You can't go wrong with either – the peanut butter is incredibly creamy, while the caramel filling is unbelievably smooth.
These chocolates are not only great for a university sports-watching party, but also make for a tasty snack to keep stocked at the office or around the house.  They can be purchased at many Fareway and Hy-Vee grocery stores across the state, or find them at the Bochner Chocolates store in Coralville, Iowa.
Bochner Chocolates
2445 2nd Street
Coralville, Iowa 52241
(319) 354-7900.