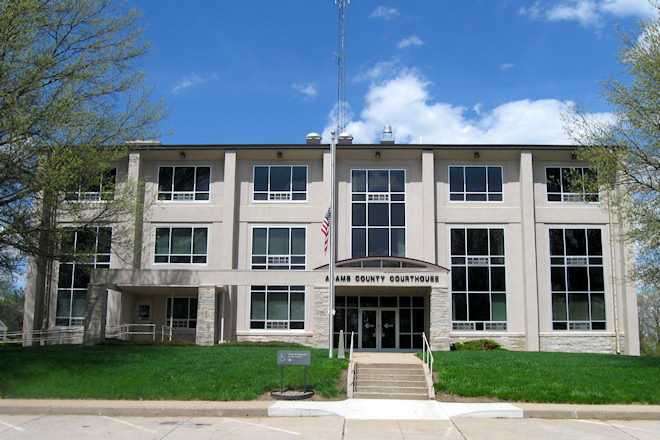 The first Adams County Courthouse to built in the seat of Corning was destroyed by fire the morning of February 1, 1888. The wood frame structure burned quickly, and within less than two hours all that was left was the chimney and remains of the brick vault. Temporary quarters were setup within local businesses before voters approved construction of a new courthouse in November 1889 and the new, $28,000 building was dedicated June 20, 1890.
By 1938, the second courthouse showed signs of deterioration and efforts were made pass a bond issue to cover costs for construction of a new Courthouse facility. After four failed votes, citizens approved a $225,000 bond issue to construct a new building in January 1954. Ground was broken June 1954 and the building was formally dedicate October 7, 1955.
The third Adams County Courthouse featured a contemporary style of architecture, unusual at the time among public buildings across the state and nation. The building originally featured concrete walls painted with aqua green and a pink-like "grayed alizarin crimson." Though the modern facility was lauded by architectural critics at the time, the building was later dubbed by legendary Iowa columnist Chuck Offenberger as being the ugliest courthouse in the state.
An $850,000 renovation was completed in 1999 which included installation of new windows and doors, a new exterior finish, and a new sign and front canopy. The project also included interior upgrades including a new coat of paint, ceiling fans, lighting, and heating and cooling throughout the building.